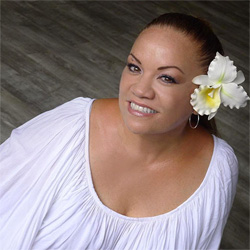 Having a passion for Hawaiian language, culture and hula, Ka'ea has enriched the lives of our keiki as a kumu with several Hawaiian Language Programs from Punana Leo- Hawaiian Language Preschools to Ke Kula 'o 'Ehunuikaimalino – Hawaiian Language Immersion School for 20 plus years, until moving to radio full-time in 2011. She is also a Lecturer at the Hawaiʻi Community College-Pālamanui and teaches Hawaiian Language, Hula and Culture College courses. Ka'ea started with KAPA in 2003 as a Hawaiian language host of "Kealahou" – a Sunday radio program. Moving to the weekends, midday, afternoons she then joined the morning team with Jaz in January of 2011, and is the Content & Brand Manager for KAPA Hwn FM. She continues to spread her Knowledge & Passion for Hawaiian Culture & Language by keeping KAPA active in the community helping to perpetuate the Hawaiian Culture and is Founder of Kāko'o I Nā Keiki Program-A Community Initiative of the Hawaiʻi Island United Way and the Lāhui Project, which benefit Hawaiʻi Island keiki, and is a Board Member of the Hawaiʻi Island United Way.
A Kumu Hula or Hula teacher graduating from Kumu Nani Lim-Yap and Hālau Nā Lei ʻo Kaholokū with 30 years of study. Establishing a school with her sister, Hālau Kaʻeaikahelelani in 2015, teaching keiki to kupuna and becoming an award winning hula school at the Moku o Keawe International Hula Festival.
Ka'ea continues her desire to humbly serve others. While strengthening and nurturing cultural identity by enriching community relationships through education, Hawaiian culture and language.